Songs of Willow Frost Book Review
Another absorbing history-based, fictional story set in Seattle from the author of Hotel on the Corner of Bitter and Sweet.
by Nancy Kerstetter
Jamie Ford, the author of Hotel on the Corner of Bitter and Sweet, crafts another absorbing history-based, fictional story set in Seattle. The two novels share the same geographic setting — Seattle Chinatown of the past — and the overall theme of heartbreak, otherwise they are nothing alike. However, if you enjoyed his first novel, you will savor the second as well.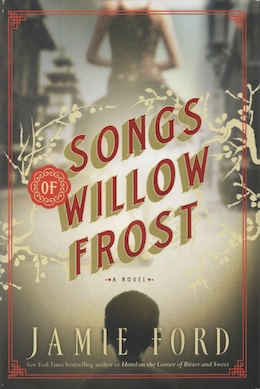 Songs of Willow Frost takes place in the 1920s. It is the story of a young Chinese orphan, William Eng, who ponders his future while he searches his memory for the truth of his past. Eng questions his very presence at Sacred Heart Orphanage run by the Catholic sisters. As the only Chinese child, he feels isolated and alone except for friendship he forges with Charlotte Rigg, a red-headed girl around his age. Charlotte is blind yet uncanny in how she senses what William is thinking and feeling. She encourages him as he searches for his mother whom he feels is alive and nearby even though she has never returned to claim him. Sister Briganti assures William that his mother is dead. But William believes his mother is Willow Frost, a movie actress. He begins a journey to meet Willow Frost to find out for certain.
Willow is a complicated woman seeking to escape her tragic past. She's also an exotic, popular actress in the emerging film industry. Unlike William, she lacks even one confidante to help her assess her life. She is totally alone. The author compassionately imparts her life story of sadness, regret and lost innocence.
Author Ford masterfully plots the action of the story by his use of flashbacks. He judiciously interweaves the action of the main characters with the backstory. Ford sparingly and skillfully fills in the gaps of the tale. He gives morsels of details without overloading our plates. His method keeps the reader hungering for more. Songs of Willow Frost is an impressive novel.
Ford, who grew up in Seattle, bases some of the novel on his family's connections to the city. For instance, his grandfather was working at the Wah Mee Club when he met his future wife, Ford's grandmother. Willow Frost is based in part on his mother, grandmother and Hollywood actress Anna May Wong. The author's great-grandfather, Min Chung, immigrated from China in the 1860s. While working in Nevada, he changed his family name to Ford. Although Jamie Ford may not sound like a Chinese name, he is part Chinese.
Sacred Heart Orphanage, Perry Hotel, Wah Mee social club, Seattle's Skid Row called Hooverville, and other sites mentioned in the book are historically accurate. Readers familiar with Seattle may not remember these institutions of yesteryear, but some are not long gone. The Moore Theater is still operating. Villa Academy has its roots in Sacred Heart Orphanage.
The author draws on the history of Seattle's Chinatown plus Depression-era links to the film industry to forge an unlikely story that hooks the reader's interest from the first pages and sustains them until the bittersweet finale. For those who like to read a well-developed story filled with credible characters in a authentic, memorable setting, this book is for you.
You can obtain this book from your local library, interlibrary loan or purchase your own copy from:
Amazon
Paperback: Songs of Willow Frost: A Novel
Kindle: Songs of Willow Frost: A Novel